Get the Party Started at Y.O. Steakhouse
Whether you're planning an alumni party, birthday party, wedding party, retirement party, Bar Mitzvah, Bat Mitzvah or holiday party ~ Y.O. Steakhouse party rooms are your best choice when it comes to Dallas event venues.
Our Dallas event venues are interesting, unique and inviting – your guests will be talking about your event long after it has ended.
Conveniently located in downtown Dallas in the historic West End district, our party rooms at Y.O. Steakhouse are memorable for any occasion.
Y.O. Steakhouse has the perfect room for your small, medium and large private parties.
Rooms to Accommodate Any Party Size
Having a wine tasting or birthday party for 20?  You won't find a more distinctive and comfortable venue than our Longhorn Lounge. Perfect for groups ranging from 20 to 40 for a seated dinner, or up to 60 for a cocktail party; the Longhorn Lounge is beautiful and rustic. This party room features three 36-inch flat screen TVs, compatible with a laptop and DVD for entertaining.
Our Lodge party room can accommodate up to 110 guests for a seated dinner or up to 200 for a cocktail party. With a private entrance and audio/visual equipment (including a 6X8 foot drop down screen), The Lodge is ideal for parties ranging from a wedding reception to an anniversary party to a holiday party.
For those occasions that call for the biggest of venues, the doors between The Lodge and Longhorn Lounge can be opened. This makes it one of the most flexible downtown Dallas event venues, accommodating up to 150 guests for a sit-down dinner or up to 300 for a cocktail party or reception.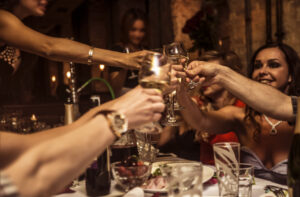 No matter the size of your party, Y.O. Steakhouse offers a variety of choices for designing your menu.
Your party guests will enjoy the finest selection of prime-aged beef, excellent selections of fresh fish and fowl, and the largest selection of wild game anywhere. This includes our legendary Buffalo Filet Mignon which has been featured on the Food Network as "one of the nation's best steaks."
Contact Michael Street to reserve a party room for your next event.