5 Reasons to Try Wild Game Meat at YO Steakhouse
---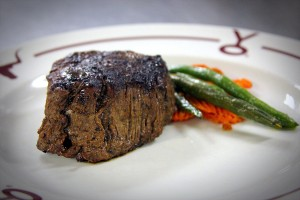 Meat lovers have enjoyed wild game since the beginning of time. However, it is not a popular protein choice as it is not as widely available as beef, chicken, pork, and seafood. The thought of even considering deer, boar, quail, or duck as a protein source may shock or appall someone who has not tried it before. This can be very frustrating for a passionate game meat lover who knows just how delicious it is and how much wild game virgins are missing out on. As one of the best steakhouses in Dallas, we are experts at different types of meat, and wild game meats are some of our favorite options that we think everyone should be able to try and love.
What is wild game meat?
Game meat refers to the meat of any land animal or bird that is hunted for food and not typically raised on farms. This type of protein has always been enjoyed by hunters and their families, but has recently risen in popularity due to its health benefits and bold flavor. There are many types of animals used as game meat, such as wild boar, moose, elk, ostrich, bison, and quail.
Cooking game meat is no different than cooking domesticated meat. However, as it naturally contains less fat, it is usually cooked at a lower temperature to tenderize it properly. Game meat can be found on the menus of many top restaurants in Dallas, including Y.O. Steakhouse. Its rich flavor pairs fabulously with red wine or a red wine sauce.
Why should I give game meat a chance? 
"Generations ago, people were healthier because they weren't eating meat stocked with steroids. Venison is a lean and incredibly healthy meat."
– Lee Lakosky, co-host of Crush with Lee and Tiffany show on Outdoor Channel
Although it is not a conventional choice, game meat offers many benefits to both its consumers and the environment.
Lean protein option
Because wild game animals are not confined to the same conditions as farm animals, they have much higher levels of activity. They are able to roam freely and breed naturally. This, along with their natural healthy diet of grass and green plants, results in a lean protein with very little fat content. Game meat contains 1/3 of the calories and a fraction of the saturated fat and cholesterol than that of domesticated livestock, who are fed a very heavy grain and corn-based diet, as well as antibiotics. While it is generally not harmful to consume the meat of farm-raised animals regularly, game meat provides a healthy alternative when you crave meat but want a lighter, leaner option.
Packed with Omega-3
According to a study completely by researches at Purdue University, meat from wild game animals contains higher levels of omega-3 fatty acids and lower levels of omega-6 acids, which is ideal for our health, compared to grass-fed beef. While both omega-3 and omega-6 are necessary in a balanced diet, too much can lead to chronic illness. By enjoying wild game meats, you are giving your body a healthy dose of both types of omega.
A delicious wild game steak dinner is just a click away. Book your table now!
Good source of iron and zinc
Similar to meat from domesticated animals, wild game meats are great sources of iron and zinc – both of which are beneficial and necessary for balanced health. The body requires iron in order for it to transport oxygen to tissues and organs while zinc helps support a healthy immune system.
Environmentally friendly
As we mentioned previously, wild animals are able to roam freely within their natural habitat. This maintains certain intended laws of nature. The animals are hunted in their own environment. On the contrary, domesticated animals are kept in factory farms, which emit high levels of waste and greenhouse gas. Hence, the process of acquiring game meat is much kinder to the environment than meats produced commercially.
Delicious!
If the previous 4 reasons weren't enough to encourage you try game meat, you can take the last reason from us – it's very tasty. The meat is flavorful, bold, and when cooked properly, tender.
Wild Game Meat Menu Options at Steakhouse in Downtown Dallas
Whether you're trying it for the first time or are a connoisseur, YO Steakhouse is the perfect place to enjoy wild game meat. Our dinner menu offers 5 different kinds of wild game, including venison, quail, boar, buffalo, elk, and occasionally others. The Wild Game Platter is a wonderful way to introduce yourself to several different types of game meat at once to help you determine your favorites. The Buffalo Filet Mignon, which was featured on the Food Network, is seasoned with our special blend of spices and cooked flawlessly to your liking. Or, for a scrumptious marriage of flavors, order a batch of Louie's Venison Roll Ups – venison meat, jalapeno, and smoked mozzarella wrapped in bacon and smothered in molasses Dijon sauce.
Give wild game meat a chance. We're pretty sure that once you try it, you'll be converted to a game meat lover forever.