Its November 22nd and I had an awesome 1st day in Dijon
---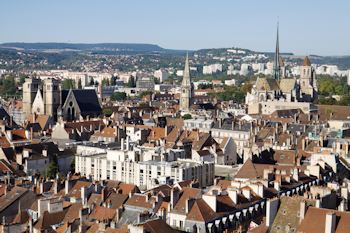 Cooking – Step 1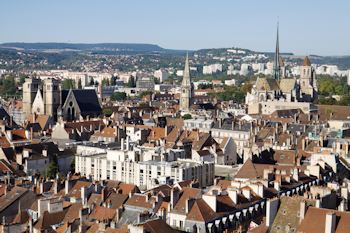 Its November 22nd and  I had an awesome 1st day in Dijon. Once I got on the train which proved to be more challenging than expected I was able to relax a little bit. I did start bumming a bit that my wife was not able to join me. Once the train took off and I took in a little of the French countryside I started making my prep lists and prioritizing. I worked on  some side dishes and garnish ideas.With the Thanksgiving gala coming two days before Texas restaurant week I started the prep list for gala menu. The first course of the Dallas Dijon Sister City Thanksgiving Gala will be  pumpkin bisque. I decided I was going to make a small batch of soup as soon as I got started and decided I would try  garnishing the soup with the seeds by roasting them with cinnamon. I hope the french chefs don't think I am crazy.
Cooking Step 2
The second thing on my prep list was a big batch of cornbread. The main dish for the gala is Quail and Dressing and the cornbread needs to stale for at least a day. I was really concerned about the cornmeal and hoped that there idea of cornmeal was not polenta especially since the executive chef at the Hotel Mercure is from Spain. In fact I was nervous about many ingredients that were on my shopping list that I had emailed to the chef. I have been through this problem before when I was the chef at Texas Embassy Cantina in London and Antigua Restaurant  in Acapulco. For example in Acapulco it was impossible to get decent beef and in London you could not get good avocados and could not get processed cheese at all. Therefore we had to open a Tex Mex restaurant without queso.
OK the train was arriving so I began  mentally preparing  myself for the task at hand. During the last two months I had spoken to Hughes Genot a couple dozen times but had no idea what he looked like. Hughes is the president of the Dallas Dijon Sister City Program and the man who has funded my trip. I kept wondering if there would be a man holding up a sign saying Tony Street. Instead when the train doors opened he and his lovely girlfriend  Helene Isnard were standing on the platform two feet from me. We exchanged pleasantries including the mandatory smooch on each cheek and headed to the taxi. We drove through the more modern side of town and being Sunday everything was closed so it was quite under whelming.
Minutes later we arrive at the Hotel Mercure which is also very modern and reminded me of your average Marriott.  In the lobby was waiting chef Gonzalo Pinenero and he suggested that I leave my bags and let him show me around. Gonzalo and I immediately hit it off and I was so relieved to know that his first language was Spanish as I am pretty close to fluent. My life long curiosity of what a French kitchen looked like was about to end.  We started the tour on the line where all the foods are cooked to order and handed to the chef. The line is made of two kitchens pretty much identical. One where they cook all the meats and the other where they cook all the seafoods. This sort of answered my questions about the menus in Paris. All the menus were split in to two sections seafood first and then red meats. The prices were about the same. I did not really see menus with what appeared to be appetizers.
Tour of Kitchen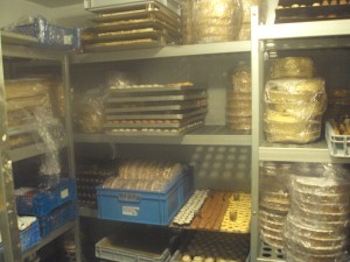 Anyway he told me to look around so I did. Everything was as organized and clean as I expected. I wish that my kitchen staff could have been here to see this. We move on to to the walk ins and freezers and then to the pastry kitchen. One of my worries when making the menus in Dallas were the pastries. I worried about making pie dough and if the flour and oven temps would be a problem. As soon as I walked in the pastry kitchen that was down stairs I realized that this would not be a problem. The pastry chefs are also the chefs for the Dijon Convention center. They had several walk in refrigerators and freezers that were packed full of the most beautiful pastries I have ever seen.
So anyway I figured that they could manage helping me with a few pate brisee's (pie crust). After I took the tour Hughes invited me to sit down and have lunch at the Hotel. I am  ready to have my first lunch in Dijon but am also very eager to get started in the kitchen. I decided to have lunch with them and I am glad I did. It ended up being kind of a meet and greet for everyone involved with the week long event. It was then that I met the Dallas musician Ross Vick from  True Heart. I could tell right away that he and I were going to hit it off.
Lunch was a Dream
So out comes the amuse bouche. It was an espresso cup that looked exactly like a miniature cappuccino in fact the chef called it a mushroom cappuccino. It was a rich, dark, velvety mushroom cream topped with an  unsweetened whipped cream and sprinkled with finely chopped truffles. I was already more impressed with the Mercure's cuisine than I thought i would be. I ordered the Foie gras as an appetizer (imagine that) and lamb chops for an entree. They were both very good and I scarfed them down. I was so ready to get in that kitchen so I excused myself and went to change. So my big moment has arrived and I am so excited that I had to calm myself down. So I stuck to my plan and started working on the corn bread.
Oh No…No Buttermilk
Everything was going great until I discovered that the chef thought I wanted sour cream instead of buttermilk. This set me back a bit because I had to make my own buttermilk. This is  actually very easy by adding 1 tablespoon lemon juice to one cup of milk and stir. So I get the first batch of cornbread in the oven and start looking for the pumpkins. I found the pumpkins and was very pleased they were perfect. To sum up my first day in the kitchen things went perfectly and my confidence for my first big day  tomorrow was very good. Felling good about my first and and the task at hand I decided to have a nice quite dinner so I went and cleaned up and came downstairs to the dining room.
More Cheese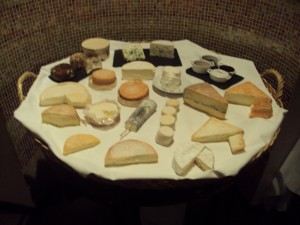 The host took me  to my table and on the way passed the cheese table which had what looked like to be at least 20 different cheese options. I ate sweetbreads and foie gras for dinner and they were both divine. Then they bring a rolling cart that is full of those beautiful pastries that were in the pastry kitchen downstairs.
There were easily 20 options of pastries in which for one price you can pick as many as you want. So I had the server make me a plate with about 5 different pastries. This is going to be trouble for me over the next two weeks as I have a massive sweet tooth.  I passed on the cheese and went to the room. I think I must have consumed 5000 calories in one sitting and don't feel very well.
I go outside for some fresh air and decide to take a walk. I walked a few blocks and the city  started getting really interesting looking. There was not a single soul on the streets and later when I got back I was told that the city literally closes on Sundays. I get farther in to the city and all the sudden every building I see is architecturally amazing and extremely old looking. The feeling was crazy it was as if I had the whole ancient looking city to myself. I was day dreaming about the movie Saving Private Ryan. I have to say that this was one of if not the most interesting 30 minutes of my life. I walk back in total amazement and go to bed I had a huge day head of me.