Get Out of the Office on your Lunch Break
---
Even in the age of remote work, many people find themselves tethered to their workstations throughout the total work day. Whether you just don't feel right about stepping away from a project or want your boss to notice your efforts, studies have shown that staying at the office during your lunch break actually lessens your productivity level.
Here are the compelling reasons why you should take your lunch break away from the workplace (and choose Y.O. Ranch Steakhouse!)

Eating Out Helps You Stay in the Lunch Zone
Many people use their lunch break as an extension of their work day. Eating lunch at your desk makes it tempting to check your phone for emails or continue that time-consuming project.
Working hard is important, but lunch breaks are designed to help you maintain a healthy work, life balance. Your lunch break should help you turn off the corporate mindset and enjoy some time to yourself. 
Take a moment to order your favorite lunch from Y.O. Ranch Steakhouse and improve your overall mental health. 
Employees Who Eat Out Have a Healthy Bottom Line
When your employees are encouraged to take their lunch at a nearby restaurant, it shows that your company is doing its best to give its employees a great quality of life. 
After all, if your employees are comfortable with stepping away from their desks at lunch, it only shows that they feel valued in your company and that your business can afford for people to take much-needed time off.
Eating at Your Desk is Bad for Company Morale
Studies show that people who work through their lunch break run the risk of:
Losing their creativity

Reduced company morale

Suffering from burnout that decreases productivity
According to an article from Forbes, about 20 percent of employees worry about their boss thinking badly of them for taking a lunch break. This anxiety leads to reduced morale, severely hurting your bottom line.  Here's a novel idea…Show your employees that they matter and schedule an office event at Y.O. Ranch Steakhouse!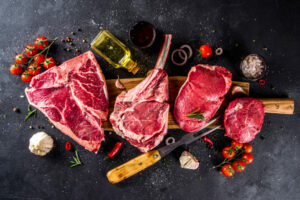 Lunch Breaks Form Healthy Habits
Taking the time to go out to lunch can help you make healthier choices outside of fast food takeout or visiting the office vending machine. 
When you eat out at Y.O. Ranch Steakhouse, you're eating at a restaurant that prioritizes serving organic meats, fresh produce and stays away from dangerous fillers in our recipes. Whether you enjoy our fresh Burrata or sample our specialty steaks, there's something for anyone's health on our menu.
Build healthier habits by giving yourself the time to choose a quality selection when the lunch bell sounds.
Enjoy Your Lunch Today at Y.O. Ranch Steakhouse
If you're ready to take a lunch break that is a cut above the standard, let the steak experts at Y.O. Ranch Steakhouse give you a Grade A experience.
We are known for being the Best Steakhouse in Dallas and are ready to show you why! Make a reservation today to try our award-winning steaks, legendary desserts, and sample our wine selection.
We are open every day for lunch and ready to serve you.