Stop By Your Downtown Steakhouse During Dallas Christmas Events
---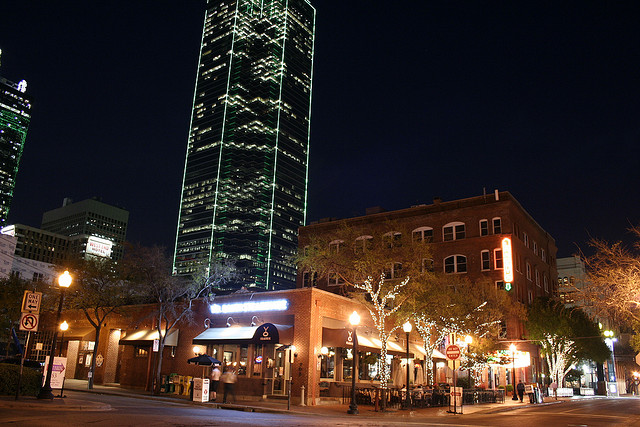 Throughout the Christmas Holiday, Downtown Dallas hosts all sorts of events to celebrate the season that attracts locals from all over the DFW and North Texas area. The month of December is full of traditional festivities and annual events that sponsors and volunteer groups put forth a great deal of effort to host each year.
A Christmas Carol is put on by the Dallas Theater Center is held at Wyly Theatre from November 25th through December 27th. This performance is a family favorite holiday production that swept the Dallas area that sold out 26 performances last year. It is recognized as a reimagined take on Dickens' classic that features Chamblee Ferguson as Ebenezer Scrooge; the audience is surrounded by the cast with magical ghosts flying about, scary ghosts bursting out of the stage floor and snow falling everywhere on everyone. A Christmas Carol is the newest, "must see" Christmas Holiday tradition full of traditional Christmas hymns and songs in musical arrangements, powerful bursts of choreography numbers and jaw-dropping special effects.
Rudolph The Red-Nosed Reindeer: The Musical is a stage adaptation of the well-known animated TV special by Wishing Start Productions' AT&T Performing Arts Center the Majestic Theater. This year the performance celebrates Rudolph's 50 year anniversary on television and the guests can come see all the favorite original characters from the special including Santa and Mrs. Clause, the Elf Hermey, the Abominable Snow Monster, Rudolph and the friends from this beloved Christmas classic. The performance is great for children and families as it is an adventure that teaches all of us that what makes each one of us different can be what makes each of us so special.
Blue Man Group: The Broadway Series is being held at the Winspear Opera House from December 30th through January 4th and is a phenomenal experience. Blue Man Group is widely-known for their theatrical shows and concerts that combine comedy, music and technology to produce a totally unique form of entertainment. It is a performance perfect for people of all ages, cultures and languages due to the performance being without any spoken language. They also will be holding a New Year's Eve Bash that will be a performance that features a special post-show experience for guests that wish to stay after the show and ring in the New Year at the center.
Restaurants Near Dallas Christmas Events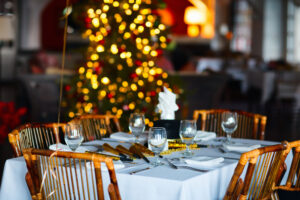 If you plan to attend any of these Christmas Holiday Events, we invite you to come by Y.O. Ranch Steakhouse. We welcome you to have a comfortable seat in our dining room and indulge yourself with any of our fine steaks, fresh seafood or any of our mouthwatering meat options from our dinner menu. We also welcome you if you'd like to just stop by before or after a performance for a bite to eat and a cocktail. We have some delectable appetizers, and a full bar with a vast wine selection to enjoy while you and your party discuss the highlights of the show.
Whether you are attending A Christmas Carol at the Wyly Theatre, Rudolph The Red-Nosed Reindeer-The Musical at the Majestic Theater or ringing in the New Year with the Blue Man Group at the Winspear Opera House, Y.O. Ranch Steakhouse is your Downtown Dallas Restaurant for Christmas Events this holiday season!