Gouda Mac- N- Cheese
---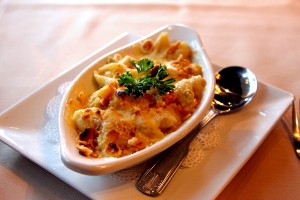 Gouda Mac and Cheese
Ingredients:
3 tbsp chopped garlic
½  tbsp  black pepper
¼   cups white wine
1 ½  cups heavy whipping cream
½  tbsp wet chicken base
¼   cups grated smoked gouda cheese
¼  cups sharp cheddar cheese
¼   cup American cheese
¼   cup Panko Japanese breadcrumbs
¼   cups parmesan cheese
6 oz . elbow macaroni or medium shells
Procedure:
Boil pasta in salted water 7-12 minutes. You can refrigerate overnight and use later as needed.
Mix the breadcrumbs and  parmesan cheese and set aside
Add the first five ingredients in a large double boiler and cook over a medium heat stirring the mixture regularly until it starts to steam on top.
Add the cheeses and stir constantly until completely mixed and remove from heat.
Mix the pasta and sauce together until creamy but not runny.
Put in a baking dish and sprinkle with the breadcrumb mixture
Bake or broil until brown
Serves 10