The list of tasks to accomplish before your wedding day might seem like it goes on for miles, and one of the essential arrangements is setting your wedding rehearsal dinner and wedding reception locations.
Many couples choose to hold their rehearsal dinner on a Friday, and then arrange the reception after the wedding on Saturday afternoon. A Saturday rehearsal dinner or weekday dinner is also a possibility when you have a Sunday wedding, or your nuptials will be held on a holiday.
Which location is best for your wedding rehearsal dinner and your reception? Will you choose a banquet hall at a hotel? Or, might your guests enjoy attending these events at one of the fine restaurants in downtown Dallas?
Here are some things to consider when choosing your venues:
Offer an Exceptional Meal at a Restaurant
A rehearsal dinner is often a time when relatives who have never met one another are given a few hours to get familiar with one another before the wedding is held and everyone is joined as extended family.
One of the best reasons to choose a restaurant is because fine eating establishments often have a space reserved for private dining in Dallas, so your group isn't sitting in the middle of an impersonal meeting room in a hotel.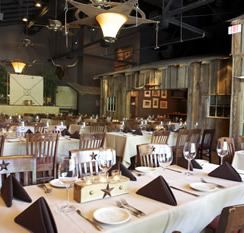 A restaurant can also provide the friendly and open atmosphere of communal dining if you're not interested in separating your group from other guests at the restaurant. The most important facet of planning your rehearsal dinner is choosing a place where people can get to know one another in a comfortable setting. The quality of the food can prove to be quite impactful when you're trying to make sure your guests are able to relax and enjoy the evening.
Tip: Book your rehearsal dinner at least four to six months in advance, particularly if you're interested in booking the private dining space at your favorite steakhouse in Dallas.
Choosing a Restaurant for Your Wedding Reception
If you're hosting a wedding where you may welcome many hundreds of guests, you might need to book an entire banquet hall for your wedding reception, but it's worth checking out some of the local restaurants and steakhouses in Downtown Dallas. Many fine establishments offer ample space for your reception.
One of the reasons you may want to choose a restaurant over a hotel for your reception is because you can choose a restaurant that is already decorated to your tastes.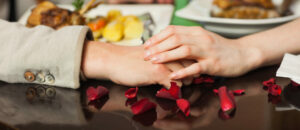 For example, consider the Hill Country-inspired feel of Y.O. Steakhouse. Enjoy the gorgeous Western ambiance without having to hang a single streamer or decorative accent.
When you choose one of the best restaurants in Dallas for your reception, you'll also benefit from the excellent menu where you can be assured that the entrees will satisfy your guests and result in a happy and celebratory group of friends and family.
Tip: When you have a million things to plan for your wedding, choosing a restaurant for your reception where you don't have to decorate can save you some serious time and money on the overall cost of your nuptials.
Choose Y.O. Ranch Steakhouse for Your Wedding Rehearsal Dinner
A well-known steakhouse located in the Texas Hill Country, Y.O. Steakhouse is the perfect setting for your wedding rehearsal dinner or your wedding reception. We offer excellent ambiance in our Western-inspired décor, as well as delicious entrees that include wild game meat and mouth-watering steak. Consider us for your wedding rehearsal dinner or your wedding reception.