The weather has begun to cool down and the days have gotten shorter, but time has not run out to plan your corporate holiday party. There are many questions that you are likely asking yourself. Where should I have our holiday party? What type of private party venue can hold all of my employees? When is the best day to have our corporate holiday party?
Although there aren't many days left as we approach the holiday season, it is never too late to book a private party room for your company holiday party. But don't wait too long, the best venues will be booked, and you could end up hosting your company event in the office break room.
If you aren't sure what type of private party venue you'd like for your company event, consider these factors to help you choose:
Party Size – How many employees will be attending the party? When calculating the total number attending, be sure to include guests if you are allowing your employees to bring their spouses, significant other and even children.
Party Venue Location – Based off the size of the Dallas area, you may have employees coming from all directions; therefore, it is important to choose a venue that is centrally located and that most are familiar with.
Menu and Food Choices – You will want to make sure the venue or restaurant you choose has a menu that offers different food options that your employees and their guests will enjoy. Don't forget about dessert!
Additional Accommodations – Will you be presenting any awards or showing a company slide show? Make sure you choose an event venue that has audio/visual capabilities and wireless internet connectivity for any presentations you're planning for the event.
Private Dining Rooms For Holiday Parties
From private party rooms for small or large holiday parties in a central location to a vast private dining menu to satisfy any pallet and audio/visual technological accommodations, Y.O. Ranch Steakhouse has what you need to host a successful company party for celebrating the holidays. With three private dining rooms and the highest quality food and service, Y.O. Ranch Steakhouse is one of the most warm and inviting special event venues in Dallas.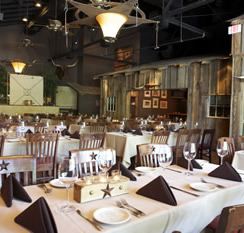 We can meet your Dallas holiday party venue needs with any of our private dining rooms.
The Windmill Room can seat up to 20 guests for dinner or more for a cocktail party setting; it features a private entrance, and is equipped with a flat screen TV and easy audio/visual connection access.
The Longhorn Lounge boasts a full-service bar, Wi-Fi connections and 3 plasma televisions for presentations or slideshows. It can accommodate up to 40 guests for dining or 60 for a cocktail party.
The Hill Country Lodge is one of the most unique private party venues in Dallas; being housed in a re-created 50-year old barn from our very own Y.O. Ranch, it can seat up to 110 for dining or up to 200 for a cocktail reception. As the largest of our private dining rooms, The Lodge can handle any presentation need with projectors, screens and audio/visual equipment.
For larger private dining needs, the large barn doors separating The Lodge and The Longhorn Lounge, and the private door to The Windmill Room can all be opened to accommodate 170 guests for dining or up to 300 guest for a cocktail reception. The entire restaurant is also available for buyout to accommodate 275 guests for dining or 350 guest for a cocktail reception.
Located in Downtown Dallas in the West End, Y.O. Ranch Steakhouse is your centrally located venue for all your company holiday party needs. It's not too late; contact us today at 214.744.3287 for more information about hosting your next private party event with us!