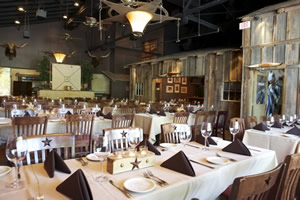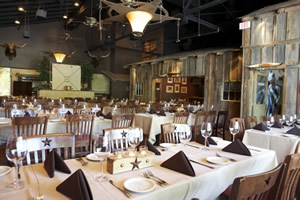 It can be hard to find a good steak in Dallas. If you want a great tasting Dallas steak, you can't go wrong at the Y.O. Steakhouse located in the heart of downtown, the Historic West End. Their Dallas steak is mouth-watering juicy and cooked to perfection, and goes great with one of their delicious red wines. This downtown restaurant has been named the finest steakhouse by The Food Network and other critics.
The Y.O. Steakhouse has a peaceful atmosphere where you can truly sit back and relax as you enjoy your Dallas steak. You'll enjoy your food in gorgeous Texas elegance decor that will melt any stress from your day. The staff is extremely friendly and will provide you with superior service that can't be found anywhere else.
The Y.O. Steakhouse has a great selection of Dallas steaks. You can choose from Filet Mignon, Ribeye, Prime Cowboy Bone-in Ribeye, Prime New York Strip, Prime T-bone, or Prime Top Sirloin. All can be cooked perfectly to your preference. Our chefs are top of the line, and are sure to give you a Dallas steak you'll never forget. The Y.O. Steakhouse has perfected the steak and is the talk of the town, and will leave you and your friends taste buds in bliss. Eat your steak with sides of creamed spinach, french fries, a smoked baked potato, bourbon cream corn, or our famous gouda mac and cheese!
Having a Dallas steak at the Y.O. Steakhouse is perfect for any occasion! Impress your clients with a business lunch, your friends with a night out on the town, or even for a romantic date in the beautiful venue. No matter what the occasion, even just for a great meal, you can't beat the Dallas steak at this place, so come on down and take your taste buds on a feast they will never forget.