It is November 20th and I just boarded a sight seeing bus that is good for the entire day. Its one of those buses that you can get on and off anywhere and stops at most points of interest. I stopped at a café along the way and ate a croissant and coffee. Oh my I could write an entire page about the coffee situation and perhaps I will later.
To give you an idea, when you order coffee you get a double espresso.  A lot of Americans would be put off by this but I was in heaven. Its amazing how so many American everyday foods originated from the French. Every time I mention one of these foods I will underline the item just for grins. So I am cruising around on the top deck of the bus in the open air enjoying the Paris scenery trying to decide what I am going to eat for lunch.
I am considering walking around in the Latin Quarter and just blindly picking a spot. The only prerequisite is they must have Foie Gras or perhaps I will try Quiche Lorraine.  There will probably be several occasions on this trip that I eat things just for the sake of saying I tried an authentic __________ when I was in France.  The quiche is an example.  The area is right by Notre Dame and that's definitely on my list.
Oh yeah, 1st things first…
Let's talk about dinner last night
So as planned I dined at Relais Louis.  The reservations were arranged by my friend Hughes Genot the man who funded my trip whom I will not meet in person until I get to Dijon. He is good friends with the owner Mr. Manuel Martinez. The place sets in a very trendy, yet quite neighborhood on the left bank. The building itself appears to be really old French architecture and it wouldn't surprise me if it was over a hundred years old.
I arrived at 7:00 pm and I was the only customer in the building which at first was really uncomfortable, especially since I am still crushed that my wife is not with me. I again realize that the French eat much later than we do. The place was completely full when I left at 10:00.
I sat down and the server, who I later learned to adore, asked me what kind of wine I wanted to start with and this was uncomfortable moment number two. I have not had a drink in eleven years and all though this was without a doubt the most opportune time to secretly relapse considering how depressed I was about my wife, that I was alone in a different country, everything about it was text book excuse for a guy like me to give in. I thought of my wife and kids and came back to reality and ordered a Coca Cola. At first the server thought I was joking. Then she went and got the manager and he came to speak to me to make sure I understood the server . I explained to him I don't drink and he laughed and walked off. I have a feeling this won't be the only time this happens on this trip especially since tomorrow I will be going to Burgundy.
Ok let's get to the food
I told the server to tell the chef to pick my food and that I was very hungry and that I loved Foie Gras.
First thing that arrived to the table was an amuse bouche–  a shot glass with a celery puree with a coconut foam. It was delightful and refreshing. Then arrived a variety of house made breads and muffins. There must have been five or more kinds all which were yummy.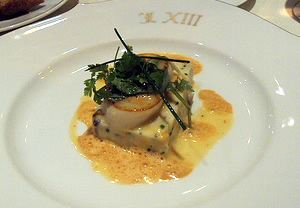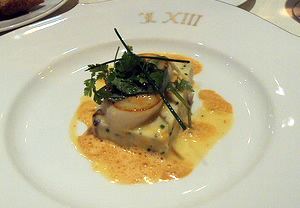 Next was the best appetizer dish I had ever had. It was a scallop dish that had a scallop terrine and a grilled scallop topped with a heavenly sherry cream with caviar.
Next was an oyster dish, they have very high quality oysters, the kind that if they were on a raw bar in New York or L.A. the establishment would be boasting about the quality and charging an arm and leg for them. Sort of in the same manner that in the states we call them heirloom tomatoes but in France they just call them tomatoes.
Anyway, these glorious oysters (harvested in South-Brittany France –  I asked the server to ask the chef) were on a bed of pureed wild mushrooms almost like a mousse and topped with a morel Champagne cream. I am trying to refrain from saying this each time but it was the best thing I have ever put in my mouth.
Next was a monkfish and squid on risotto with a saffron beurre blanc. God I love the French and the way they use butter and cream with everything. This is how I learned to cook and the way I still cook today.
Next was the Foie Gras – I really don't know how it was prepared I just inhaled it. I remember that it was on grilled spice bread that was sweet and had a strong ginger flavor. Oh yeah it was the best thing I have ever eaten.
Next was the beef dish. They were short ribs braised in a red wine that would probably cost you a pretty penny in Dallas.  The beef was way above average but I must sa,y this was my least favorite dish as I am pretty picky when it comes to beef.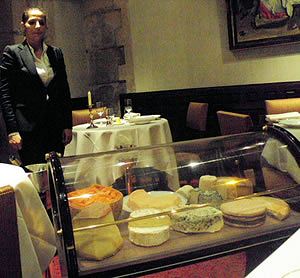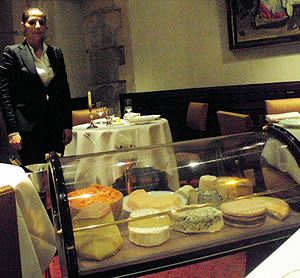 Next was the cheese tray. I asked the server how many I could pick and she said as much as you want. I told her to pick for me and she placed 8 different slices of cheese on the plate. I am getting sick thinking about the cheese and how much I ate that night and yet there was still more.
There was an amuse bouche dessert and the dessert plate totaling about 10 different little tastes of sweets.
Ok, that's it I can't talk about it anymore. I will report later. I have included a link to all the food shots.