Atmosphere is key when you're planning the perfect event. For a truly special dining experience, from intimate small groups to more dramatic affairs, look no further than the private dining rooms at Dallas' premiere eatery, Y.O. Ranch Steakhouse.
With its intimate setting and our delicious steakhouse specialties, a private room is the perfect place to celebrate a special occasion, entertain large groups or simply enjoy a night out with friends or family.
The nature of the occasion will determine the type of menu and atmosphere you choose. We work with you to make the vision for you event come to life! We provide extra, little touches to make every event special in its own way.
Plan Your Private Event  
Our private dining rooms both lunch and dinner can be booked up to 30 days in advance, so be sure to book as early as you can.
The number of guests will determine the size of your room, so it's best to have a clear idea of your event size before you book. From an intimate dinner of 16 guests to a cocktail reception for 350 people,  our restaurant has a variety of private dining rooms to suit large and small events. 
Y.O. Steakhouse is known for its delicious and creative steakhouse menu, and our private dining menu is no exception. We offer classic and contemporary American dishes, all made with the freshest local ingredients. Many groups opt for our Buffalo Filet, which was featured on the Food Network.
Whether your event is a large gathering or intimate dinner, our menus offer all cuts of the best steaks in Dallas, excellent fowl and fresh fish, scrumptious sides and amazing desserts.
The Longhorn Lounge
A warm, intimate room; the Longhorn Lounge at Y.O. Steakhouse accommodates up to 35 guests for a seated dinner, or up to 60 for a cocktail reception. The rustic décor in the Longhorn Lounge, is purely Texan: turn-of-the-century hardwoods, artifacts from the real Y.O. Ranch and natural antler chandeliers and sconces.
The Hill Country Lodge
A re-created, 50-year old barn makes the Hill Country Lodge one of the most unique event venues in downtown Dallas. The Lodge accommodates up to 1

10 guests for dinner or up to 200 for a cocktail reception.
 It features a private entrance and contains all the A/V equipment you will need for your presentation including screens and projectors.
The Windmill Room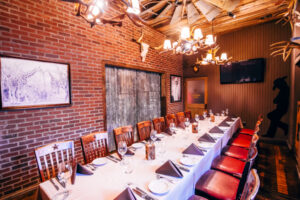 Our Windmill room is the smallest of our private event spaces, perfect for working dinners of 16 people or less. A 10-foot wide antique windmill fan has been retro-fitted into the ceiling, As in all of our event spaces, the Windmill Room's rustic décor is pure Texas and ideal for small groups to gather in a comfortable, relaxed setting. Available for lunch, dinner, cocktail or all-day events, the Windmill Room elevates any occasion to something extraordinary.
Large Private Events
The barn doors separating the Lodge and Longhorn Lounge, and the Windmill Room open up to create a banquet hall enough to comfortably accommodate 160 guests for a sit-down dinner, or up to 280 for a cocktail reception.
The entire restaurant is also available for buyout and can accommodate 280 for dinner or 350 for a cocktail reception.
Best Event Venue in Dallas, TX
Our exquisite customer service and highly coveted steakhouse menu provide the flexibility, the versatility and the peace-of-mind that comes with knowing your guests will be delighted and your event a major success.
With our memorably delicious food, intimate setting, and personalized service, book your next event at a private dining room inside the Y.O. Ranch Steakhouse in Dallas now!  To book your event, visit our website or simply complete our online event form.