Ingredients: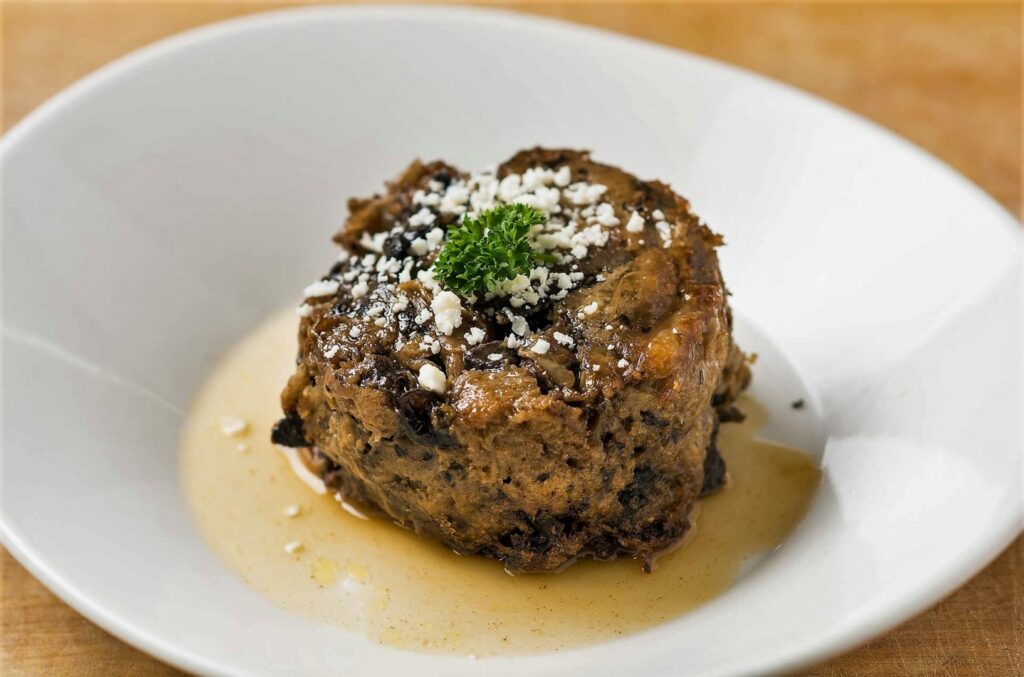 6 tablespoons unsalted butter
6 cups thin sliced yellow onions
4 teaspoons salt
1 teaspoon cayenne pepper
1 teaspoon ground black pepper
6 cups wild and exotic mushrooms
2 tablespoon chopped garlic
10 eggs
4 cups heavy cream
1/2 teaspoon Tabasco sauce
2 teaspoon Worcestershire sauce
8 cups bread croutons
1 cup grated Parmigiano or Cotija cheese
Directions:
Preheat the oven to 350 degrees F.
Grease a shallow half pan with 1 tablespoon butter.
In a large sauté pan add 2 tablespoons butter and add the onions, 1 teaspoon salt, and black pepper and saute for 4 minutes.
Stir in the mushrooms and garlic and saute for 3 minutes remove from the heat and cool.
In a mixing bowl, whisk the eggs for 30 seconds. Add the heavy cream, remaining 1 teaspoon salt, and cayenne, Tabasco, and Worcestershire sauce. Whisk the mixture until fully incorporated.
Stir in the sautéed mushrooms. Add the bread cubes and mix well. Pour the filling into the prepared pan.
Sprinkle the pudding with the grated cheese.
Bake for 45 minutes.