Your favorite Dallas steakhouse is joining forces with one of the finest Napa Valley wineries to bring you "The Wild Game" Wine Dinner event on June 17th, 2015 – the first event of its kind at Y.O. Ranch Steakhouse in Dallas, TX.
Founded in 1999 by brothers Dr. Jan Krupp and Bart Krupp, Krupp Brothers is a limited-production winery handcrafting complex, age-worth wines from the world-famous Stagecoach Vineyard.  The winery specializes in Bordeaux and Rhone varietals, producing unique wines with depth and character.
Y.O. Ranch Steakhouse in Dallas & Krupp Brothers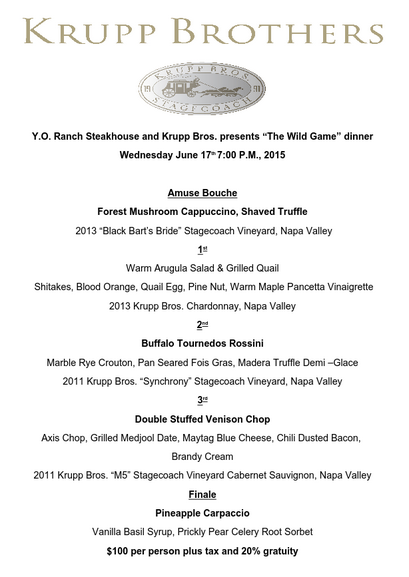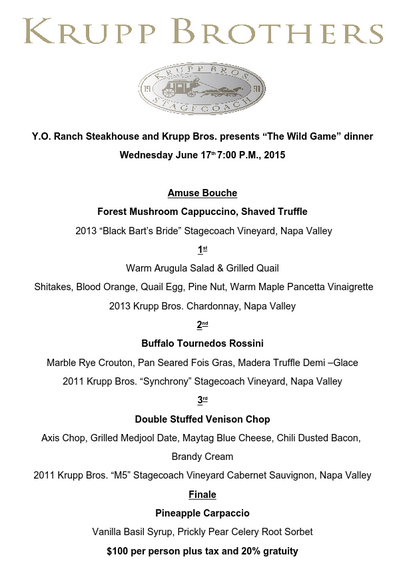 Always striving to diversify our wine selection, Chef Tony has designed a gourmet steakhouse dinner menu to pair with select Krupp Brothers wines. Samantha, our certified sommelier, has coordinated the wines with the dinner menu resulting in what will be a truly exquisite dining experience.
The evening will begin with an amuse bouche – Forest Mushroom Cappuccino with Shaved Truffle, along with a glass of 2013 "Black Bart's Bride" wine. Then, guests will enjoy a 2013 Krupp Brothers Chardonnay alongside a Warm Arugula Salad & Grilled Quail, followed by the Buffalo Tournedos Rossini and 2011 Krupp Brother "Synchrony". The 3rd course includes a Double Stuffed Venison Chop and 2011 Krupp Brothers "M5" Cabernet Sauvignon. What better way to end the night than with a Pineapple Carpaccio for the finale.
Sandy Huffine, a brand ambassador for Krupp Brothers, will be in attendance discussing the different wines presented at dinner. For more than 10 years, she has devoted herself to sharing Krupp Brothers handcrafted wines to wine lovers all over the country, and we are thrilled to be having her with us.
Reserve Your Seat for the Wine Dinner in Dallas
Whether you're a Dallas local looking for a sophisticated "girls night out" or a romantic date with your significant other, "The Wild Game" will be a unique experience that is sure to please. Guests can enjoy the entire 5-course dinner for $100 per person, plus tax and 20% gratuity. Space is very limited. With only 30 seats available, guests will be admitted on a first-come, first-serve basis. We highly recommend making reservations to guarantee a seat for you and your party.
Call us today to reserve your seat for "The Wild Game" Wine Dinner – 214-744-3287
The Best Steak in Dallas
Since 1996, the Y.O. Ranch Steakhouse in Dallas has earned numerous honors for its extraordinary steaks, impeccable service, and warm, inviting ambiance and classic Texas-charm. Using only the freshest, finest ingredients, Chef Tony has attracted both locals and out-of-state visitors to experience his interpretation of the finest cuts of steak, wild game, chops, and fresh fish. Located in the heart of the West End in Downtown, Dallas residents are always a short ride away from what readers of The Dallas Morning News have voted "Best Dallas Steakhouse". With 100-year old brick arches, iron accents, candlelit tables, and beautiful patio, it's an excellent option for a casual lunch or elegant dinner.
Planning a graduation or engagement party for a large group? Ask us about our private dining and banquet facilities, sure to provide your guests with a unique and memorable dining experience.
Come see why Jim O'Connor of the Food Network declared the Y.O. Ranch Steakhouse to be "one of the nation's finest steakhouses."