Celebrate Valentine's at the Y.O. Steakhouse
---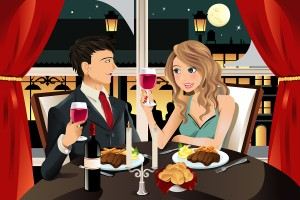 We're two days away from Valentine's Day, and we know it can be stressful for busy couples, but the secret to a great nig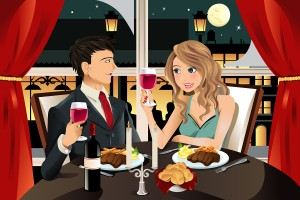 ht out is to pick the right venue! Celebrate Valentine's Day at the Y.O., voted Dallas/Fort Worth's Favorite Steakhouse by fans, and you can't go wrong. You will be satisfied by our quiet, cozy, but extravagant restaurant right here in the Historic West End District of Downtown Dallas.
Enjoy our special Valentine's three-course dinner for $110.00 per couple. Our delightful menu options (shown below) include our famous steak, seafood, or exotic game, complete with dessert. As always our regular dinner menu will also be available too. So plan the perfect, exciting, and romantic night out with your special someone at the Y.O Ranch Steakhouse.
So call to reserve your table now at 214-774-3287, or you can also make a reservation with OpenTable.

Y.O. Ranch Steakhouse Valentine's Day Menu
Shrimp Dynamite
Gulf Shrimp topped with a spicy Aioli, crumbled goat cheese
and broiled over a bed of fresh spinach.
Venison Roll-ups
Bacon wrapped Axis Venison, jalapeño, and smoked mozzarella,
brushed with a Dijon molasses
Maryland Crab Cakes
Served with a Dijon / horseradish Remoulade
House Salad
A spring mix with caramelized pecans, Granny Smith apples,
goat cheese, with a garlic cilantro vinaigrette
Smoked Corn and Sweet Potato Chowder
Garnished with wild boar bacon, cotija cheese, and cilantro oil
Prime Rib
(Slow roasted with herb and garlic)
Natural au jus and horseradish—garlic mashed potatoes and green beans
Filet Mignon
Garlic mashed potatoes and green beans
Espresso Crusted Elk Tenderloin(5.00 Extra)
Blackberry port reduction—fingerling potatoes
Chicken Fried Lobster (5.00 Extra)
Madeira and Port wine truffle reduction,
garlic mashed potatoes and green beans
Grilled Sea Bass
Fresh lobster pieces and champagne saffron cream,
Minnesota wild rice and steamed asparagus
Chocolate Molten Cake
or
Crème Brûlée
$110 Per Couple