How to Replicate Our Chicken Fried Lobster Entree
---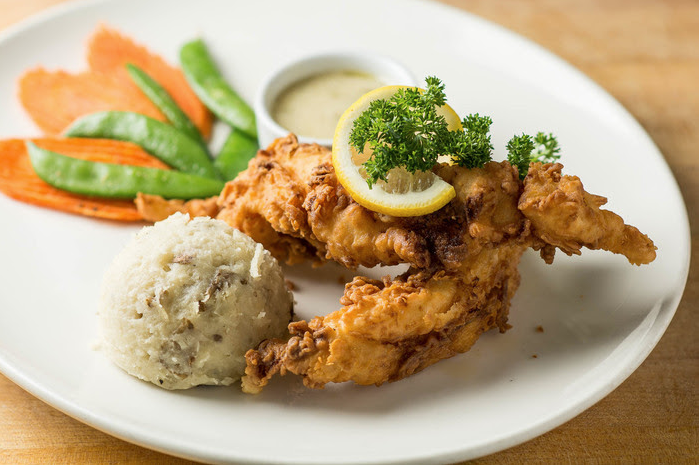 If you've been in Texas long enough, then you already know that ordering your meat chicken fried is a local delicacy. Usually, restaurants will offer this cooking method with a piece of chicken or a leaner cut of beef.
While we do have a delicious chicken fried hamburger steak on our menu, sometimes our chef likes to kick up our southern traditions a notch or two. Enter our signature, chicken fried lobster.
This dish is made with fresh lobster, the right amount of crunch for its namesake, and is traditionally served with our homemade mashed potatoes and green beans. Feel like impressing your spouse with a night in of exotic cooking? Well, now even you can learn how to cook this dish like the professional chefs at Y.O. Ranch Steakhouse.
The Basics of What You'll Need
What would a lobster dish be without some fresh lobster. For a Y.O. sized serving, this recipe will call for four 8 oz. lobster tails and a pan that's been evenly coated with Canola oil.
Dry Breading Ingredients
3 cups all purpose flour (rice flour if you're feeling fancy)
¼ cup corn starch
1 tsp salt
1 tsp pepper
1 tsp onion powder
1 tsp garlic powder
½ tsp powder ginger
Mix up your dry breading ingredients in their own bowl until they are evenly distributed into a single, flavorful blend.
Wet Breading Ingredients
The wet breading ingredients you need seem simple but really bring out the southern fried flavor that's to be desired with this entree. To perfect our wet breading, you'll need:
3 cups buttermilk
1 tsp Tabasco
Let's Make a Masterpiece!
Preheat the oil in your pan. If you are using a fryer, pre-heat it to 375 degrees.
Get your bowl of dry breading and bowl of wet breading prepared for the lobster
Grab a sharp knife and cut the lobster tails in half, length-wise.
Remove the lobster meat from its shell
Smother the lobster in your dry mixture, transition to the wet mixture, then take it back to the dry. Don't get rough with your cuts, simply coat them in the dry mix.
Cook in your pan or fryer for 3 to 4 minutes. Check for the lobsters to be golden brown.
Try the Real Deal at Y.O. Ranch Steakhouse, Tonight!
Usually, our dish comes with a lemon caper butter cream, but since you're making our lobster at home, why not try out a creative topping of your own. After all, we can't give away every secret in our arsenal.
If you want to try our lobster before cooking it, we invite you and your family to take a seat at our table. Make your reservation at Y.O. Ranch Steakhouse today!