An excellent restaurant will provide helpful recommendations for wine pairings with the house specialties, and the best steakhouses in Dallas will offer a wide array of fine spirits to complement any meal.
With some brief study, you can arrive at Y.O. Steakhouse with all the information you need to choose the best wine for your meal. Here are some simple rules you may wish to employ the next time you have your eye on dining in one of the best restaurants in Dallas.
The Best Wine Pairing for Hors D'oeuvres
 Want to begin your meal with an excellent pairing? Choose a dry rosé when you expect to order a variety of hors d'oeuvres for the table. A rosé will taste like a combination of a light bodied white wine and the deeper fruity experience of a red wine. You will find the combination pleasing whether you order crudités, gougères, or creamy anchoïade.
White Wine Complements Entrees with Lime or Lemon
You'll want to consider an unoaked white wine when you order any dish that might feature lemon or lime squeezed upon it (or which you could squeeze a lemon or lime on). Wines like Vermentino and Sauvignon Blanc aren't made in oak barrels, but are instead created in stainless steel tanks. They bring out the flavor in foods like grilled salmon due to their citrusy flavor and bright taste.
Spicy Foods Pair Well with Low-Alcohol Drinks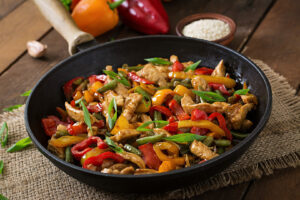 If you choose a spicy entrée from the menu, you'll want to try a low-alcohol wine because a drink with high alcohol content will make spicy foods taste even spicier. While you might want to taste something as spicy as possible, you probably don't want to use alcohol to heighten that particular flavor. A sweet wine like German Riesling will play very well with a spicy stir-fry or a dish with curry.
Order Tannic Reds with Red Meats
 You'll be able to sample some of the best red meat at steakhouses in Dallas, and you can make your experience even better when you choose a wine like Syrah or Cabernet Sauvignon. "Tannins" are compounds in red wines that help the drinks stand up to the audacious flavor in bold dishes that are braised or seared to perfection.
Consider the Sauce when Choosing the Wine
 Many of the dishes you'll see at restaurants in downtown Dallas will feature meat that's served in a type of wine sauce. For example, you might see pork chops in white wine sauce, or the chef may use a bold red wine sauce instead. If you're ordering a meat dish where the sauce is the main component of the taste experience, make sure you choose the wine to match the sauce instead of the meat.
Steak Pairs Well with Earthy Wines
 If you see bison steaks on the menu at your steakhouse in Downtown Dallas, you'll want to seek out an "earthy" wine for the best pairing. A red like Pinot Noir or Nebbiolo pairs beautifully with ingredients that make you feel like your food has just been taken from the earth for your enjoyment. A dish with mushrooms, for example, is an ideal partner for an earthy wine.
Finish Dinner with Dessert and a Light Wine
 If you reach dessert, and you're not full from the main course, you'll want to choose a light wine that isn't too sweet to go with your dessert. Light wines include Madeira or Moscato, and their lack of overwhelming sweetness is an ideal complement to a sweet dessert like roasted pears or cider-poached apples.
Y.O. Ranch Steakhouse: The Best Steakhouse in Downtown Dallas
A Texas tradition since 1880, Y.O. Ranch Steakhouse is an internationally-renowned steakhouse in the state's idyllic Hill Country. Enjoy the best wine pairings Texas has to offer when you dine with us.