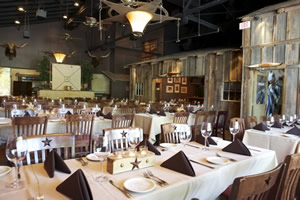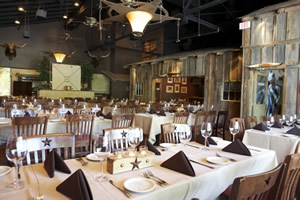 If you're looking for the perfect place to have your wedding rehearsal dinner in Dallas, the Y.O. Steakhouse is ready to give you the ideal venue for the prelude to your wedding. We have a gorgeous venue in downtown Dallas that is fit for any bride and sure to leave a lasting impression on your guests.
The Longhorn Lounge and The Lodge, our venues for wedding rehearsal dinners, are stunning. Decorated in high-class western décor it's the perfect Texas wedding. There are a variety of rooms for each part of your rehearsal dinner. Keep the rooms separate, or open all the doors to make a large spacious area to accommodate all your guests.
Your wedding rehearsal dinner in Dallas at the Y.O. Steakhouse will treat your guests to the best food around. Enjoy a variety of different steaks that are all delicious and cooked to perfection. Choose from a selection of great wines to complement the dinner perfectly. Let's not forget about the desserts that they are known for. Your guests will enjoy mouth-watering desserts that will leave them speechless – they are that good. So you definitely can't go wrong with this venue when it comes to the food, it can completely satisfy even the pickiest of people.
If the food and venue haven't convinced you that you will have the best wedding rehearsal dinner Dallas has to offer, then there is more. Our staff is extremely friendly and knows exactly how to cater to a large amount of people. We know your guests are important, and if they're happy, you're happy, and the event can run smoothly. So no need to worry about the service, that is all taken care of.
If you didn't know, the Y.O. Steakhouse was featured on the Food Network as one of the nations finest steak houses. That's a pretty big deal coming from the Food Network. This place is as professional as it gets, and always delivers our best to our clients. So if you don't want to stress about everything, just have your wedding rehearsal dinner in Dallas at the Y.O. Steakhouse and know that everything will be taken care of for you.
The Y.O. steakhouse would be delighted to host your wedding rehearsal dinner in Dallas. We strive to please every soul at your event, so that all will have an absolutely great time that they will remember from years to come. You don't want to be flipping through the photo album with your family and be reminded of anything negative about your experience here. We put great effort into making positive memories.
So if you are looking for that perfect place for your wedding rehearsal dinner in Dallas, the Y.O. Steakhouse is here to give you and your guests an amazing evening and even better food.
If you would like to reserve The Y.O. Steakhouse venue for your wedding rehearsal dinner, please contact Michael or give him a call at 214-389-0981 for a tour of our facilities and a review of our menus and services. We are sure you'll love it as much as we do.