YO Steakhouse Guide to Texas Cuisine
---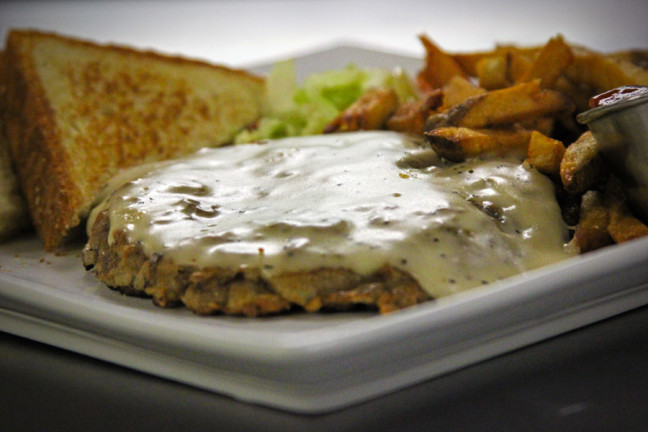 Texas is known for its unique and flavorful cuisine, which is a reflection of its history, culture and geography. From barbecue to Tex-Mex, here are a variety of dishes that have become synonymous with the Lone Star State.
Texas Specialties
As a premier steakhouse in the heart of Texas, Y.O. Steakhouse knows a thing or two about Texas cuisine. Let us take you on a culinary journey through some of Texas' most iconic dishes, our unique spin on them and exactly how we do it.
Texas Barbecue
When it comes to barbecue, Texas is famous for its beef. From brisket to ribs, Texans take barbecue seriously. The secret to Texas-style barbecue is low and slow cooking over wood, which imparts a smoky flavor to the meat. At Y.O. Steakhouse, we take pride in our mesquite-grilled steaks, which are cooked over an open flame for a delicious charred flavor.
Tex-Mex
Tex-Mex cuisine is a fusion of Mexican and Texan flavors and ingredients. It's a cuisine that's all about bold flavors, spicy heat, and comfort food. Some of the most popular Tex-Mex dishes include fajitas, enchiladas, tacos, and queso dip. We put our own twist on Tex-Mex with dishes like our Cowboy Tacos, which feature mesquite-grilled beef tenderloin with pico de gallo and avocado.
Chili
Chili is a Texas staple, and Texans take their chili seriously. Traditional Texas chili is made with chunks of beef, chili powder, garlic, onions, and cumin. Some recipes also include beer, masa (corn flour), and even chocolate. We serve up our own version of chili, which features tender chunks of beef in a spicy tomato-based sauce.
Chicken Fried Steak
Chicken Fried Steak is a classic Texas dish that's essentially a deep-fried steak. The steak is pounded thin, breaded, and then fried until crispy. It's typically served with mashed potatoes, gravy, and a side of green beans or corn. We serve our own version of Chicken Fried Steak, which features a juicy tenderloin cutlet that's coated in a crispy breading and fried to perfection.
Kolaches
Kolaches are a breakfast pastry that's popular in Texas, particularly in the Czech communities. They're essentially a sweet or savory bread roll that's filled with various fillings, such as sausage, cheese, or fruit. We serve up our own take with our Wild Game Kolaches, which feature venison, wild boar and antelope sausage wrapped in a sweet pastry dough.
Our Key Ingredients
Y.O. Steakhouse is known for its use of special and exotic ingredients that elevate the flavor of their dishes to a whole new level. Let's take a closer look at some of the ingredients that set Y.O. apart from other restaurants in the area.
Game Meats
We are widely-reknowned for our use of game meats such as buffalo, elk, and venison. These meats are leaner and more flavorful than traditional beef and provide a unique dining experience that can't be found elsewhere.
Wild-Caught Seafood
In addition to game meats, Y.O. Steakhouse also sources its seafood from the wild rather than farm-raised. This ensures that the seafood is of the highest quality and provides a more complex flavor profile.
Truffles & Wild Mushrooms
Truffles are a rare and expensive ingredient that add an earthy and luxurious flavor to any dish. Y.O. Steakhouse uses both black and white truffles in their dishes, elevating the flavor of everything from steak to pasta.
We utilize wild mushrooms such as morels and chanterelles in their dishes. These mushrooms are prized for their unique and complex flavor profile and add a rich and earthy flavor to any dish they're used in.
Creative Spices
Y.O. Steakhouse uses a variety of exotic spices to enhance the flavor of their dishes. These include spices such as cardamom, coriander, and saffron, which add depth and complexity to their already delicious dishes.
Unique Sauces
Y.O. Steakhouse also creates unique sauces and dressings in-house that are the perfect complement to their dishes. These include sauces such as a red wine demi-glace, a green peppercorn sauce, and a truffle butter sauce, among others.
Y.O. Ranch Steakhouse Embodies Texas Cuisine
Texas cuisine is a melting pot of flavors and ingredients that reflects the state's rich history and cultural influences. From barbecue to Tex-Mex, there's a wide range of dishes that have become synonymous with Texas.
Our Dallas steakhouse takes pride in serving up the best Texas cuisine around, with our own unique twists and flavors. Whether you're a native Texan, transplant or a visitor to the Lone Star State, we hope you'll come and join us for a taste of Texas.
Y.O. Steakhouse is a must-visit destination for anyone looking for a unique and delicious dining experience. With our use of game meats, wild-caught seafood, truffles, wild mushrooms, exotic spices, and unique sauces, Y.O. Steakhouse truly sets itself apart from other Dallas restaurants downtown. If you're a foodie looking for a new and exciting culinary adventure, be sure to give Y.O. Steakhouse a try.