Where to Watch the Super Bowl in Dallas
---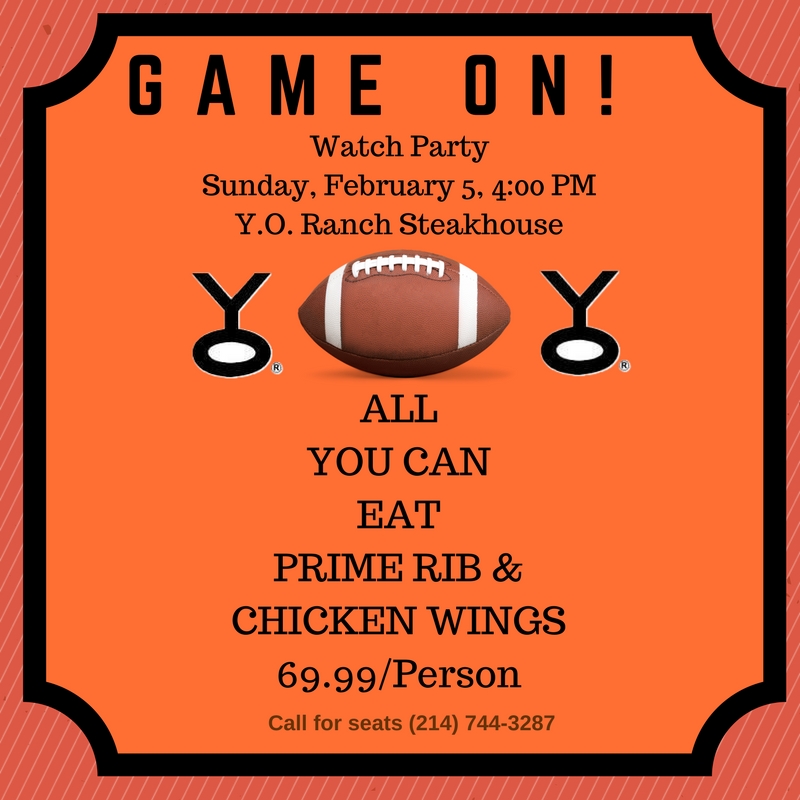 America has many favorite pastimes including everything from baseball and delicious steaks to apple pie and summers spent at grandma's house. Every year football fans across the country look forward to celebrating their favorite teams that make it to the Super Bowl. At our Downtown Dallas steakhouse, we're no strangers to the celebrations and festivities that come with the big game. On February 5th starting at 4pm, the Y.O. Ranch Steakhouse is hosting a Super Bowl watch party! Here's what to expect.
All You Can Eat Menu
American social gatherings usually are centered around food. Whether it's a potluck dinner, buffet, or simple chips and soda, people love to eat and share a meal and memories. Our Dallas steakhouse has perfected this culture of food and turned it into a great event for the Super Bowl. For $69.99 a person, you can enjoy all you can eat prime rib and chicken wings! Since we're known for our amazing steaks, you can expect our Super Bowl spread to be pretty darn good.
Fantastic Drinks Made by Our Bartenders
No game is complete without an adult beverage to get the party started! Our bar is fully stocked with some of the best Texas beers around. For those that aren't beer drinkers, our wine list is one of the largest in any of the Dallas restaurants around. Many of our reds and whites pair perfectly with our delicious prime rib. We also have a drink of the month that our bartenders create to share with our customers. Come in and see what they've come up with for this February!
Great Atmosphere
When we were deciding on the design of our steakhouse, we wanted it to feel warm and inviting. The atmosphere we have created is perfect for gatherings of friends and family to watch the big game. Our comfortable furniture and decor makes our restaurant the ideal place to kick back and watch the Super Bowl with your friends. Wear your team's jersey and come prepared to cheer on your team!
Join Us for the Super Bowl
Are you looking for the perfect place to watch the game and enjoy great food? Then join us for a good time at the Y.O. Ranch Steakhouse! Our unlimited prime rib and chicken wings menu is sure to please everyone in your group. To reserve your seats or for more information, call (214) 744-3287. We look forward to seeing you!