Y.O. Steakhouse now offers local Texas brews and whiskeys
---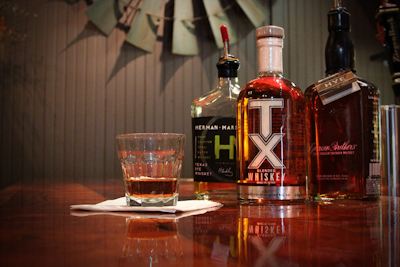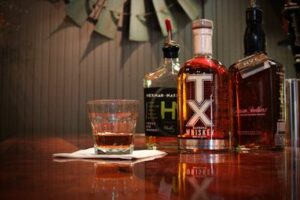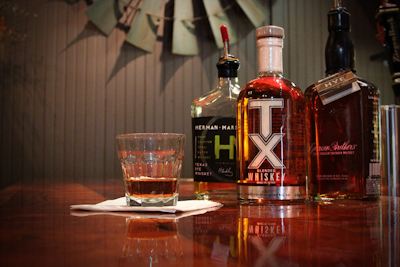 Since we are located in the heart of Downtown Dallas, in the midst of the Historic West End District, and adjacent to a plethora of hotels and convention centers, often our clientele are out-of-towners. Most of these folks are recommended by their hosts or concierges to experience the flavor of Texas by visiting our great historic little steakhouse. However, up until recently we haven't been able to give them a broader taste of the wealth of our state because our drink menu was geared more to wine friendly folk.
Well, that has changed, because we now offer a sample of Texas Whiskey, and locally brewed beer. In trying to create a unique experience here at the Y.O. Ranch Steakhouse, we didn't want to just rely on the typical popular brands of spirits, and so now we present to you some of the new options we now offer at our fully stocked bar.
Herman Marshall Texas Rye Whiskey
Dallas Distilleries, a little whiskey distiller nestled in a forlorn Garland industrial patch is making a name for themselves with their Herman Marshal Texas Rye Whiskey, Dallas County's first distilled hand-crafted small batch whiskey, patiently aged in new white oak barrels in the great state of Texas. They are fond of saying that theirs is a Texas product "from the corn up," which means they're sourcing the primary grain in their spirit from the Texas panhandle. They use handmade cypress fermentation tanks. The whiskey exudes wonderful nuances of oak, spice, caramel and vanilla, but has a lighter floral character with a long, mellow finish, which is really refreshing over ice. (92 Proof)
Garrison Brothers Straight Bourbon Whiskey
The Garrison Brothers are the home of the first and oldest legal whiskey distillery in Texas. Their Texas Straight Bourbon Whiskey is bold, proud and authentic. It's home-grown and handcrafted from the finest ingredients: plump, organic yellow corn from the Texas Panhandle; premium organic winter wheat that they grow themselves on their ranch in Hye, Texas; and two-row barley from the Pacific Northwest and Canada. They grind grain fresh daily and cook their own sweet mash – one batch at a time, and then they marry the delicious distillate with fresh Hill Country rainwater that they harvest and purify themselves. Their flagship straight bourbon has a rich velvety nose of caramel, butterscotch, vanilla, nutmeg, and coconut. But the real character was revealed in the finish-long, smooth, and buttery, like warm caramelized sugar crackling and melting across your tongue. This bourbon should be savored slowly, at bottle proof, perhaps with a little water or soda, but never with cola or lemon-lime soda. (94 Proof)
Firestone & Robertson TX Blended Whiskey
Firestone & Robertson Distilling Co. of Fort Worth, Texas, explored numerous American blended whiskeys, but felt they lacked the complexity and character of many of the highly regarded and award winning Scottish, Irish and Canadian whiskey blends. TX Blended Whiskey is the product of their efforts to blend their favorite characteristics of each of the best Scottish, Irish, and Canadian blend, which they spent a laborious two years sampling. The light auburn of a sweet Texas summer of vanilla bean, oak and honey butter, with a nice long, smooth and slightly sweet finish, the TX Blended Whiskey is an American innovated masterpiece. Each grain are yielded to it's perfection, from the yeast to the wheat and barely. Recognize the TX Blended Whiskey by their handcrafted bottle corks, where every bottle has a story. (82 Proof)
Franconia Brewing Co. Wheat Beer
Franconia finds its brewing roots in the family lineage of owner and brew master, Dennis Wehrman. Dennis's great great grandfather opened the first brewery in Frankenbreu, Tanna, in 1800. Having studied the brewing trade at the University in Munich, Dennis moved backed to Dallas and opened Franconia in February of 2008. Franconia Wheat is an original German Hefeweizen brewed with over 50% malted wheat and original Bavarian wheat yeast. Their adherence to the traditional fermentation process brings out an explosion of banana, orange, and clove aromas and flavors, and is 4.8% alcohol by volume.
Revolver Brewing Co. Blood & Honey American Ale
Revolver Brewing is a family owned business founded by father and son master brewer duo, and is located thirty-five minutes southwest of Fort Worth in historic Granbury, TX. This take on American Wheat Ales features an unfiltered deep golden hue, made with malted two row barley and wheat. The brew is finished with Blood Orange zest, local Fall Creek Farms Honey, and other spices that bring special flavors to this unique beer. It is 7% alcohol by volume, just slightly above other regular brewed beers.
Shiner Bock & ZiegenBock Amber
Of course, you can always find a bottle of Shiner Bock here, and just about anywhere in Texas. Brewed with rich roasted barley malt and German specialty hops, this lightly hopped American-style Dark Lager always goes down easy. Originally a seasonal beer, fans have demanded it year-round since 1973.
We also have Ziegenbock on tap as well. Brewed in Houston, ZiegenBock is a beer of the South. Only available in Texas, this American-style amber lager offers notes of roasted grains in the aroma and sweet, smooth taste with a hop finish. The select imported hops and specialty malts create a taste worthy of a 2006 Great American Beer Festival Bronze Medal.