Must-Try Dishes at Y.O. Ranch Steakhouse in Dallas
---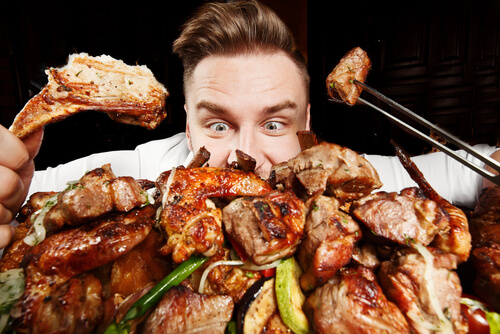 Welcome to the world-class Y.O. Ranch Steakhouse, where culinary excellence meets unparalleled ambiance! Prepare yourself for a gastronomic adventure through the finest selection of delectable dishes, sizzling steaks and mouthwatering delicacies.
At our world-famous steakhouse, we pride ourselves on pushing culinary boundaries and surprising even the most seasoned food connoisseurs. Let's explore the wonders of this renowned steakhouse and unlock the secrets of its extraordinary menu.
Chicken Fried Lobster
Ever imagined the marriage of fried chicken and lobster? Prepare to be dazzled by our chicken fried lobster, a delightful twist on two classic favorites. Succulent lobster is coated in a crispy golden batter, perfectly complementing the tender, juicy chicken. It's a tantalizing combination you won't find anywhere else except our lunch menu available until 5 p.m. 
Prime NY Strip
Our prime New York strip is an absolute must-try for those seeking the epitome of indulgence. Carefully selected, aged to perfection and expertly grilled, this steak is a masterpiece on a plate. Each bite is an explosion of flavor, with the natural juices and marbling ensuring a melt-in-your-mouth experience. Our signature house-made steak sauce is a symphony of tastes that will leave you yearning for more.
Bacon-Wrapped Venison
Venture into the extraordinary with our bacon-wrapped venison. This dish embodies the marriage of hearty flavors and tender textures. The smoky aroma of bacon embraces the succulent venison, creating a harmonious balance that will transport your taste buds to new dimensions. Prepared with precision and served with a side of seasonal vegetables, this culinary creation is sure to captivate both the adventurous and the refined palates.
Buffalo Filet Mignon
A true gem among our dinner offerings is the buffalo filet mignon. Indulge in the richness of this lean, tender cut that encapsulates the wild essence of the American West. Each bite delivers a sublime combination of robust flavors and velvety texture. Accompanied by a delicate truffle-infused sauce and paired with a carefully curated wine selection, this dish is a celebration of opulence that will leave you craving its distinctive allure.
The Tomahawk Steak Experience
Prepare yourself for the showstopper of our steakhouse -– the Tomahawk steak. This epic cut, renowned for its dramatic presentation, will steal the spotlight on your dining table. With its long bone still attached, the Tomahawk steak is a true culinary work of art that promises an unforgettable feast for both the eyes and the palate. Grilled to perfection and served with an array of tantalizing accompaniments, this steak exemplifies the essence of indulgence and sets the stage for an extraordinary dining experience.
Meet at Y.O. Ranch Steakhouse Today
Step into a world of culinary delight at our world-class steakhouse. From the extraordinary combination of chicken fried lobster to the luxurious elegance of the prime New York strip, each dish is meticulously crafted to ignite your senses and satisfy your cravings.
But Y.O. Ranch Steakhouse is a lot more than our organic, ranch-to-table menu. Every staffer is an expert on our menu and will give you personalized service. We offer a charming, intimate atmosphere, warm Texas hospitality, and signature cocktail and wine selections. Visit our award-winning dining rooms to see just what makes us a worldwide phenomenon. You won't be disappointed.
Whether you're seeking adventurous flavors or our refined classics, Y.O. Ranch Steakhouse promises a symphony of taste and luxury that will leave an indelible mark on your culinary journey. Indulge in the finest cuts, immerse yourself in an ambiance of sophistication, and experience the pinnacle of gastronomic pleasure at the world-famous Y.O. Ranch Steakhouse. Bon appétit!