Easter Brunch-Dallas Steakhouse
---
The temperature is rising, the days are getting longer, and flowers have begun to bloom. Spring is almost here and Easter is following right behind. What are your plans for Easter Sunday? Have you chosen the location and made Easter dining reservations.
Easter Brunch Reservations in Dallas
Every family and group has their own Easter celebration traditions. Many families go to church or praise in some way, and after many enjoy a feast together. If you are searching for Easter meal ideas for you and your family, Y.O. Ranch Steakhouse in Dallas has a special Hill Country Easter Brunch menu planned and is ready to accommodate your entire family. Before it gets too close, you'll want to make your reservations.
How to reserve a table for your Easter Sunday Brunch in Dallas? Setting up your Easter reservation in Dallas at Y.O. Ranch Steakhouse is quick and simple. Whether you need a table of 4 for your immediate family or for 15, 20, or more for your entire family, your reservations can be made in just minutes.
To be sure we accommodate everyone's Easter Brunch dining needs, we ask that you contact us directly to set up your reservation at 214-744-3287.
Interesting Facts about Easter
Why does Easter change? Easter, which has been called a movable feast, does not fall on the same date year after year like most holidays. The date in which Easter is celebrated is based on the first Sunday following the full moon after the vernal equinox on March 21, which is the first day of spring. Due to this, the Easter holiday is observed between March 22nd and April 25th. Specifically, Easter Sunday-2015 is on April 5th.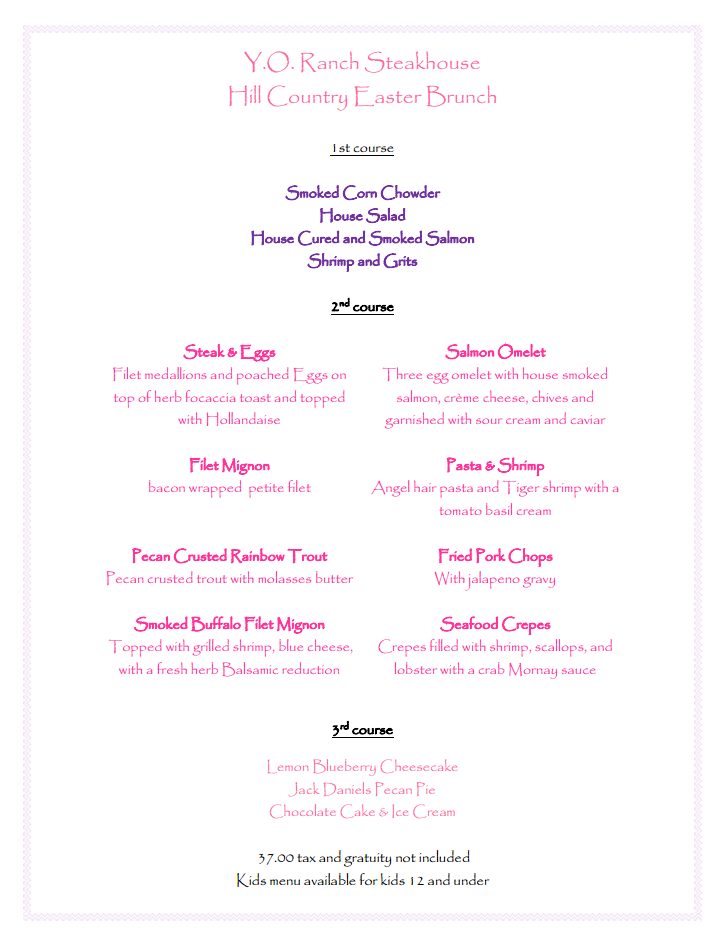 This Easter we have planned a three course brunch menu offering some of your Dallas steakhouse favorites as well as some popular brunch items.
1st Course
The first course offers four delectable options as starters to your Easter Brunch meal including:
Smoked Corn Chowder
House Salad
House Cured and Smoked Salmon
Shrimp and Grits
2nd Course
The second course for Easter Brunch offers a variety of entrées that are sure to please including:
Steak & Eggs – Filet medallions and poached eggs on top of herb focaccia toast and topped with hollandaise
Salmon Omelet – Three egg omelet with house smoked salmon, crème cheese, chives, and garnished with sour cream and caviar
Filet Mignon – Bacon wrapped petite filet
Pasta & Shrimp – Angel hair pasta and tiger shrimp with tomato basil cream
Pecan Crusted Rainbow Trout – Pecan crusted trout with molasses butter
Fried Pork Chops – Served with jalapeno gravy
Smoked Buffalo Filet Mignon – Topped with grilled shrimp, blue cheese, with a fresh herb balsamic reduction
Seafood Crepes – Crepes filled with shrimp, scallops, and lobster with a crab mornay sauce
3rd Course
The third course offers three dessert choices which can be enjoyed with a fresh hot cup of coffee or even a dessert wine from a local Texas winery or choose from a national or international wine selection. The Easter Brunch dessert choices include:
Lemon Blueberry Cheesecake
Jack Daniels Pecan Pie
Chocolate Cake & Ice Cream
Dallas Steakhouse-Easter Brunch Details
The Hill Country Easter Bruch is $37.00 per person (tax and gratuity not included). As we do with all of our holiday dining, our à la carte menu will also be available if you or one of your guests decides they want something extra. Also, the Y.O. Ranch Steakhouse Kids Menu will be available for kids age 12 and under.
Rather than stressing about what to cook, shopping for all the ingredients, and trying to fit the entire family at one table at Grandma's house, just pick up the phone and reserve your Easter Bruch table at Y.O. Ranch Steakhouse so you can sit back, relax, and enjoy the celebration of Easter with your family this year.