Mary Kay Seminar Returns to Y.O. Ranch Steakhouse
---
Established in 1963, Mary Kay has provided women across the world a chance to become their own consultant, providing profitable business opportunities that allows them to pursue their goals on their own schedule.
Y.O. Steakhouse and Mary Kay are proud to welcome back our favorite summer guests for their annual seminar. Each summer, thousands of Mary Kay beauty consultants gather in the downtown Dallas, and Y.O. Steakhouse is honored to offer an exclusive, 3-course menu available for our Mary Kay guests.
The seminar runs through mid-July to August 6th at the Kay Bailey Hutchinson Convention Center, just two weeks shy of the tragic events in downtown Dallas, and Mary Kay consultants came to town ready to show their support to the city and residents of Dallas. As a fellow Dallas business, Y.O. Steakhouse is proud to host and help celebrate Mary Kay for inspiring and empowering so many young women, and are delighted to show our appreciation throughout the conference.
One Of A Kind Texan Dining Experience
Whether you are a first-time visitor or a frequent patron, Y.O. Steakhouse delivers a unique experience found only in the heart of downtown Dallas. The authentically Texan menu and hospitality make our restaurant a "must-visit" dining experience. From the black and white accent tables, to the sophisticated dining room, your dining experience at Y.O. Steakhouse will be distinct each and every time you visit.
Our select, hand-crafted menu for our favorite summer patrons at Mary Kay at one of the best steakhouses in Dallas will leave consultants talking about the mouth-watering, delectable, divine dinner they had all the way through next years seminar.
Mary Kay Steakhouse Specials
Hungry? You came to the right place. Mary Kay consultants can enjoy the best Y.O. Steakhouse has to offer, from the Prime Aged Sirloin, Four Leaf Salad, and Texas Pecan Pie, the combinations of lunch and dinner selections are endless at one of the best steakhouses in Dallas.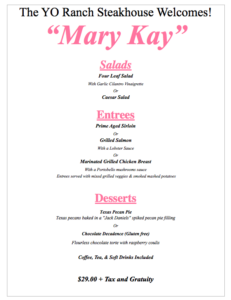 Three Course Lunch and Dinner
Our Chef and Special Events Director create a budget-friendly, unique menu each year for our Mary Kay guests. The moment you taste the Garlic Cilantro Vinaigrette on the exquisite Four Leaf Salad, or the Lobster Sauce on the the Grilled Salmon – all of which are served with mixed green vegetables and smoked mashed potatoes – paired with the unlimited coffee, tea, and soft drinks upon request, you'll know why Y.O. Steakhouse has consistently ranked as one of the top best steakhouses in Dallas.
If you have a sweet tooth, the rich and decadent Texas Pecan Pie is sure to satisfy. Baked in a Jack Daniels spiked pecan pie filling, your tastebuds will explode with flavor from first to last bite. Gluten free? Not a problem. Chocolate Decadence lives up to its name, accompanied with a savory raspberry coulis.
Plan A Visit To Our Steakhouse Throughout Your Convention!
From the Kay Bailey Hutchinson Convention Center, Mary Kay seminar attendees are just a few stops away, easily accessible by drive, train ride, or walk. Located in the heart of downtown Dallas in the historic West End District, you'll be enriched with the history of Dallas while dining at one of the best steakhouses in downtown Dallas.
We value and appreciate our new and old friends at Mary Kay for choosing Y.O. Steakhouse to make their visit to Dallas enjoyable and delicious!
---
PLANNING A VISIT TO Y.O. STEAKHOUSE IN BETWEEN SEMINARS? BOOK A TABLE FOR YOU AND YOUR FELLOW MARY KAY CONSULTANTS!