Top 5 Reasons to Eat Steak for Thanksgiving
---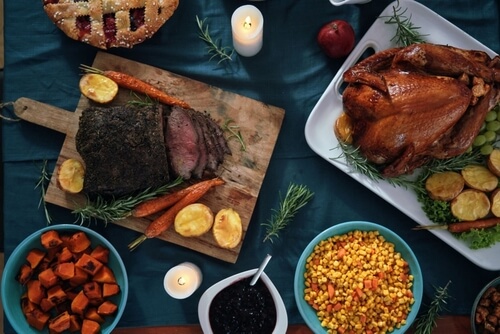 With Thanksgiving just around the corner, it's time to start thinking about what you will serve at the big dinner. If you're looking to really impress your guests this year, why not try serving steak?
Here are five reasons why eating steak for Thanksgiving will up your holiday game!
1. Steak Helps You Feel Fuller, Longer
A juicy steak is not only a delicious treat, but it's also a great source of protein.
A four-ounce serving of steak contains approximately 25 grams of protein, making it an excellent way to fuel your body. When combined with other healthy foods, such as vegetables and whole grains, steak can help you feel fuller for longer and give you the energy you need to power through your day.
2. Steak is Nutrient-Rich
A steak is more than just a slab of meat – it's a work of art. When cooked correctly, a steak is juicy and flavorful, with a perfect balance of fat and protein. It's no wonder that steak is such a popular dish enjoyed by meat lovers worldwide.
But what makes steak so special and a headliner on our menu? For starters, steak is a high-quality meat, so it's nutrient-rich and satisfying. But it's also packed with flavor, thanks to the marbling of fat throughout the meat. When cooked properly, that fat melts and infuses the steak with flavor, creating an unforgettable dining experience.
3. Steak is Hearty and Filling, but Not Too Heavy
Regarding Thanksgiving dinner, there are two schools of thought: turkey or steak?
Turkey is the traditional choice, but steak can be a delicious and festive alternative. Steak is the perfect choice for a holiday meal. It's hearty and filling but not too heavy.
And with so many different types of steak to choose from, you're sure to find one that satisfies everyone's appetite. From filet mignon to strip steak, there's a steak for every taste.
4. It goes well with all the traditional Thanksgiving side dishes
When it comes to Thanksgiving dinner, one of the most important traditions is the side dishes that complement the main course.
Stuffing, cranberry sauce, and pumpkin pie are just a few of the dishes that are synonymous with the holiday.
Yes, all of these sides go well with turkey, but what about steak? While it might not be traditional, steak is a delicious option for most sides at the dinner table.
Whether you pair it with all the traditional side dishes or switch things up with a new twist on an old favorite, steak is sure to be a hit at your next Thanksgiving.
5. Cooking the Perfect Steak is Easier Than You Think
We've said it ourselves! The perfect steak from home is something most novice chefs can accomplish. With a little bit of know-how, and some tips from the best steakhouse in Dallas, anyone can cook a delicious steak.
The key is to start with a good quality piece of meat. Then, it's important to get the right temperature. Too hot and the steak will be tough and dry; too cold and it will be rubbery and undercooked.
Once the steak reaches the perfect internal temperature of your liking, it's simply a matter of getting it to the plate and enjoying your Thanksgiving meal!
Thanksgiving Steak at Y.O. Ranch Steakhouse
Thanksgiving is a time to gather with family and friends, eat good food, and give thanks. This year, consider adding steak to the menu. Steak is a nutrient-rich meat that is delicious and easy to prepare.
If it's been a while since you've had a great steak, don't take our word for it. If you're in Dallas, be sure to check out Y.O. Ranch Steakhouse. We have been consistently named the best steakhouse in Dallas and are ready to show you why. Make your reservation today!