The Paleo Diet Made Easy at Our Restaurant in Downtown Dallas
---
It's a tale as old as time – the human desire to lose weight, get fit, and stay healthy. From magic weight loss pills and potions to fad diets and exercise videos, it seems like there's always a new method introduced every few years that promises to help shed the extra pounds. However, one of today's most popular diets is not a new concept at all. In fact, it originated in a completely different era nearly 10,000 years ago. The Paleolithic diet, or Paleo diet as it is commonly called, has gained quite a following all over the world, including right here in Texas.
Dining out while dieting can be difficult, as options are often scarce and temptation is aplenty. Luckily, one of the best restaurants in Dallas, Y.O. Steakhouse, has a menu full of diet-friendly options for our Paleo-practicing guests.
What is the Paleo Diet?
The Paleo diet is a dietary plan based on what may have been eaten during the Paleolithic era, hence the name. Diet staples include lean meats, fish, fruits, vegetables, nuts, and seeds – all foods that could be obtained by hunting and gathering. The recent revival of the Paleo lifestyle can be attributed to the belief that prehistoric peoples were stronger and healthier than we are today. This is due to nutritional weaknesses in the modern diet, which was founded with the emergence of farming. Farming, Paleo diet advocates argue, established dairy, grains, and legumes as additional staples in the human diet. This new way of eating is thought to have outpaced the body's ability to adapt, eventually leading to the prevalence of obesity, diabetes, and heart disease.
While following the Paleo diet has helped many people successfully lose weight, it is also maintained as part of a long-term healthy lifestyle and an alternative to sugary and processed foods.
Paleo-Friendly Options at Y.O. Steakhouse Restaurant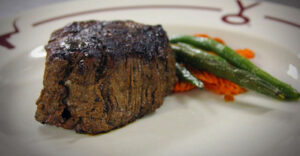 From wild game meat to seafood, salads, and sides, we offer plenty of options for our Paleo-eating friends.
Grilled Salmon & Spinach Salad
Fresh baby spinach, mushrooms, hard boiled eggs, and red onions tossed together with a warm hot Italian bacon dressing and topped with crunchy toasted almonds and a generous filet of charbroiled salmon.
Buffalo Filet Mignon (Featured on the Food Network Channel)
Lean, tender, and seasoned to perfection, the buffalo filet mignon is accompanied by two grilled shrimp and grilled veggies. Ask your waiter or waitress to substitute the garlic mashed potatoes for a bake sweet potato and you've got yourself a hearty and heart-healthy meal.
Steak Dinner
If you're dining at a Dallas steakhouse, chances are you're probably in the mood for some good steak. Choose from an 8 oz Top Sirloin, 12 oz Ribeye, 10 oz New York Strip, Prime Cowboy Bone in Ribeye, Porterhouse, Petite Filet Wrapped in Bacon, or 6 oz Filet Mignon along with one or more of our vegetable sides like steamed broccoli, fresh sauteed spinach, portobello mushrooms, or grilled asparagus.
Wild Game Platter
You'll get your fill of protein with this one. Split a plate full of quail and wild boar sausage with a Paleo pal. If you're not keen on sharing, try the Wild Game Mixed Grill – a trio of wild game meats that changes daily.
Espresso Crusted Elk Tenderloin
A heavenly marriage of bitter and sweet, the Espresso Crusted Elk Tenderloin is topped with a blackberry port reduction.
Venison Chops
Texan, French, and Asian cuisine come together in this exciting dish. The chops are grilled with herbs de provence and served over bourbon spiked sweet potato puree with a plum wasabi glaze. Ask your waiter to hold the fried onions, as they are not Paleo-approved.
Visit Y.O. Steakhouse for a Paleo Lunch or Dinner
Dining out while following the Paleo diet doesn't have to be hard. In fact, when you visit our steakhouse in Dallas, it can even be delicious! Whether your goal is to lose weight or maintain a healthier lifestyle, Y.O. Steakhouse is happy to support you on your journey to wellness. Make your reservation for lunch or dinner today.